The recipes from "Tornister-Lexikon für den Frontsoldaten" by Gerhard Bönicke will be posted here in four parts as follows:
Part 1: Soups and egg dishes
Part 2: Vegetable and potato dishes
Part 3: Fish, meat dishes and sauces
Part 4: Salads, miscellaneous, sweet dishes and drinks
Part 3 follows.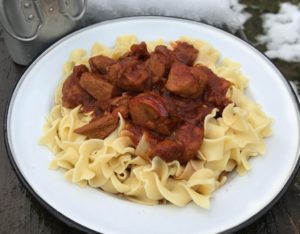 Fish
(Fish requirement per man about 250 grams of fish for boiling, or 200 grams of fish for frying/baking, or less in an emergency.) Wash river and sea fish well in vinegar water, remove scales with a knife, cut the belly open and remove innards, cut off the head, tail, and fins, thoroughly wash again and- if possible- rub with vinegar water or lemon water.
Fried fish. Roll the fish or fish pieces in flour, dip in milk, roll in bread crumbs and fry until golden brown in a hot pan with oil. For large pieces, cover the pan briefly and let the fish steam. Season with chopped onion greens, parsley and chives, and preferably drizzled with lemon juice. Serve with Salzkartoffeln or Pellkartoffeln.
Steamed fish. Heat fat in a pot, add the fish, season with diced onions and lemon juice, cover pot and allow juice to form. Lightly thicken the juice with a roux, salt to taste, add Salzkartoffeln.
Boiled fish. Boil the fish until soft in plenty of water with some salt and sliced or diced onions. Season the cooking water with lots of green dill, soup seasoning, bouillon cubes, parsley and some salt, and thicken with flour or a roux.
Meat dishes (100-150 grams meat per man)
Meatballs (meatloaf). Finely chop beef or pork (or a mix of both) or put it through a meat grinder, mix with paprika, salt, some mustard and raw diced onion. Soften some chopped up chunks of bread in water or milk, and add some wheat or rye flour. Form into apple sized balls, roll in bread crumbs and fry in a pan with plenty of hot fat, until well browned on all sides.
Gulasch. Cut up beef, pork, veal, and mutton, or any one of those, into not-too-small cubes. Brown on all sides in hot fat with lots of diced onion, some garlic and plenty of paprika. Add a little water and some salt, and cook until soft. Replace the water that steams away.
Roast veal (also mutton or pork). Prepare like Gulasch, but leave the meat whole. Always make roast in an oven, turn it often and baste it in the drippings. Score the rind of pork checkerboard style with a knife. Season mutton with garlic.
Boiled meat of all kinds. Add the meat to hot water, salt, pepper or paprika, herbs of your choice (mutton with some garlic), and cook until soft. At the end, thicken the cooking water with some flour or a roux and add raw unions or onions fried in fat. If meat broth is needed, put the meat in lots of cold water with a few marrow bones, pour out most of the water before thickening with flour or roux, and season with finely chopped parsley.
Schnitzel and cutlets. Beat meat slices until tender, roll like fried fish in milk, flour and bread crumbs, add some salt and fry until brown in a pan in hot fat.
Game ragout (also other meat ragouts). Prepare meat as with Gulasch, fry and boil until done, for a sauce add marmalade or sugar, salt, pepper, paprika, lemon or vinegar to taste.
Sauces
Bechamel sauce. Dice 2 medium onions and fry until golden brown in 1 tablespoon of butter, margarine, lard or oil. Add 1 heaping tablespoon of wheat or rye flour, and fry while stirring until light brown, then add 1 drinking cup full of whole or skim milk and season the sauce with salt and some paprika.
Fruit sauce. Warm fruit juice. Stir some potato flour (corn starch, corn flour or pudding powder) into cold water, stir until smooth and add to boiling fruit juice.
Horseradish sauce, Clean a thumb-size piece of horseradish and grate it. Prepare a roux with 1 heaping tablespoon wheat or rye flour and 1 tablespoon butter, margarine or lard. Dissolve that in 1 drinking cup full of milk or water, bring to a boil and add the grated horseradish, season with a little salt and ½ teaspoon sugar and allow to cook a little bit more.
Parsley sauce. Bring equal parts milk and water to a boil, thicken with potato flour (see fruit sauce) or a roux. Add salt, soup seasoning, meat extract and raw or roasted diced onion and at the end, add lots of finely chopped parsley (in place of parsley you can use green dill, to make a dill sauce for fish dishes).
Mustard sauce. Stir 4 tablespoons of mustard in 1 drinking cup of water until smooth, add some salt and a pinch of sugar, Stir a heaping tablespoon of potato flour in a cup of milk or cold water, and add to the boiling sauce to thicken. Good with hard boiled eggs, fish recipes
Bacon sauce. Brown diced bacon and onions in a pan, add some rye or wheat flour, and as soon as the flour begins to brown, add cold water or cold milk, stir and boil for a short time. When you add the cold water or cold milk, you need to have the pan off the fire. Season to taste with soup seasoning, salt, herbs, etc.