The German Army introduced a new model of HBT uniform in 1933. This uniform was called the "Drillichanzug," literally HBT uniform ("Drillich" is the German word for herringbone twill fabric). It was made of undyed fabric, and was a two-piece uniform, with a simple unlined jacket with 2 lower patch pockets, and straight-legged trousers. In 1940, this uniform was replaced with a green dyed uniform in the same style. In 1942, this uniform was again updated. The two-pocket jacket was replaced with a four-pocket version, made very similar to the wool field blouse, and issued with insignia. The straight-leg pants were replaced with a new pattern that had a fastener at the cuffs. There was also a work uniform, called the Arbeitsanzug, in a different cut, made of blue fabric.
There are many misconceptions about the issue and use of German Army HBT uniforms. These are outside the scope of this article and we will publish something on this uniform, from a historical perspective, at a different time. This article is about reproductions of the first and second pattern (white and green two-pocket) HBT uniforms, from a reenactment perspective.
Original Uniform Color and Material
Looking at original photos showing the first pattern, undyed unifoms, and also at surviving original examples, a huge variety of shades and tones can be seen. It's likely that some of this is a result of soiling and laundering. It's possible that when new, the undyed fabric all had an off-white "oatmeal" tone, and that through repeated cleanings, was bleached white, perhaps to then become off-white again, from soiling. This is speculation. The fact is that in reality, these things, were, and are, in a range of shades. This photo of Reichsarbeitsdienst men wearing their version of this uniform in this undyed fabric illustrates this fact.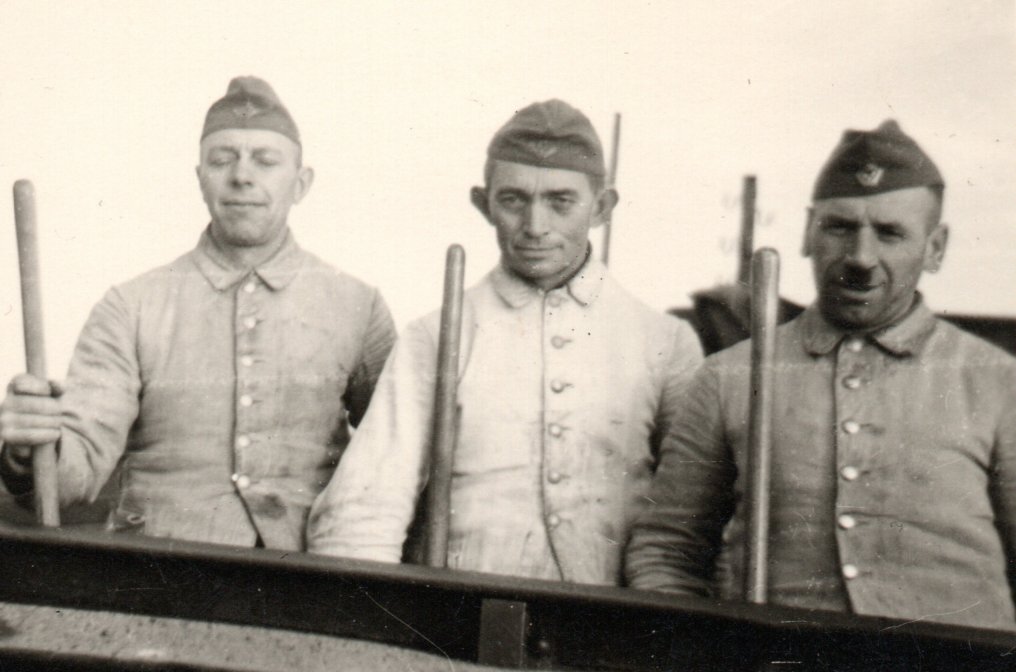 The green HBT material also varied. German fabric manufacturers were not able to standardize color shades for the millions of wartime uniform and equipment items manufactured, it was no different with the HBT. This photo shows original wartime wool uniforms with scraps of the green HBT material used as reinforcement under the collar. This is a protected place, and while some of the visible differences could be due to wear and laundering, I believe most of the evident differences are a product of manufacturer variation. Some is more smooth and fine, some more rough and coarse, the relative size and appearance of the "stripes" woven in the fabric is different from one to the next. As one would expect, there is a wide range of variation in this fabric.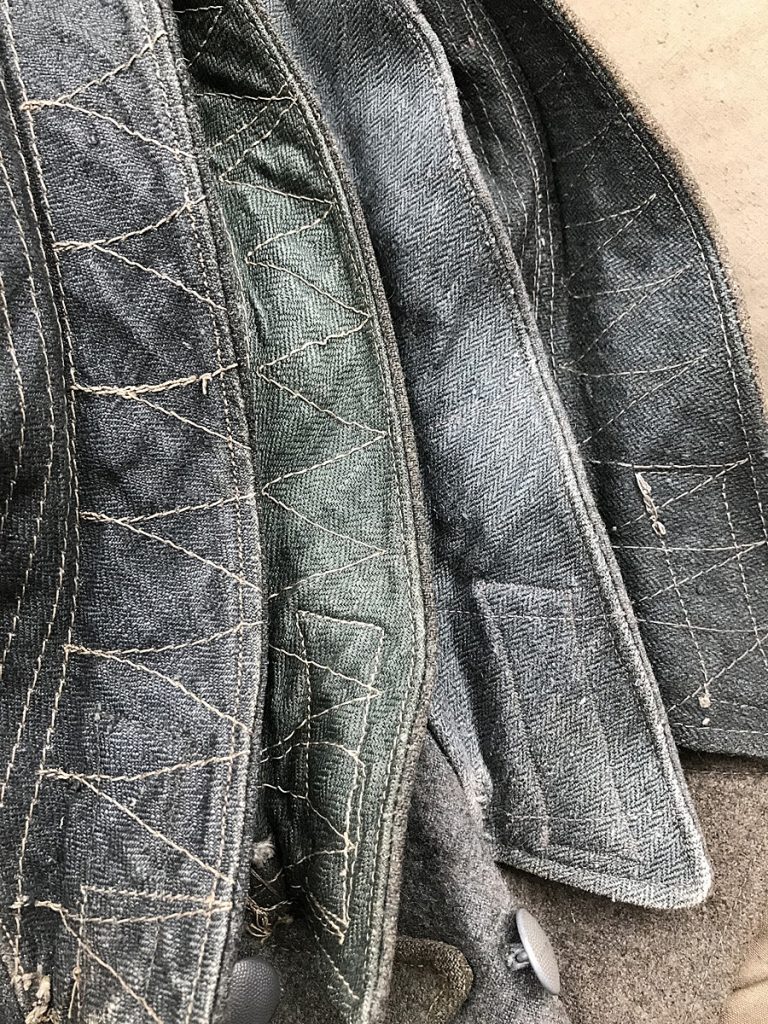 I have no way to determine the fiber composition of original uniforms. Wehrmacht HBT fabric was purportedly made of linen, but I have no wartime or prewar source that states this explicitly. Whether any may have been made from blended fiber, or cotton, I can't say. Manufacturers of reproductions make various claims about the fiber content of their fabrics but I have no way to verify this. I also have no insight on the extent to which modern Asian linen fiber may vary from wartime or prewar European flax-derived linen, if these are the same or not. I can say that it is possible to find wartime fabric with more or less sheen, or that feels more soft or rough, etc.
Issues with reproductions
Reproductions will always differ from originals in some way. It is the same with these uniforms. Some of these issues are easily remedied and some are not.
One pattern error that exists with two-pocket HBT jackets from various manufacturers is an issue with the front placket. On originals, the front edge, on the buttonhole side, is cut straight, with the edge parallel to the buttonholes, so that the front edge when worn is straight and in line with the row of buttons. Many reproductions use a placket like that on the wool field blouse, which is slanted, with the edge getting closer to the button row as it moves from the collar to the skirt. This photo illustrates this issue. On the left, an original jacket with straight, vertical placket, and on the right, a reenactor wearing a reproduction jacket, with a slanted, diagonal placket edge. Look how close the edge is to the lowest button and how far it is from the top button; that's the problem. This can be fixed with a sewing machine by carefully unstitching the edge, folding it to be straight (trimming near the top as needed), ironing or tacking the edge in place and stitching it with a sewing machine.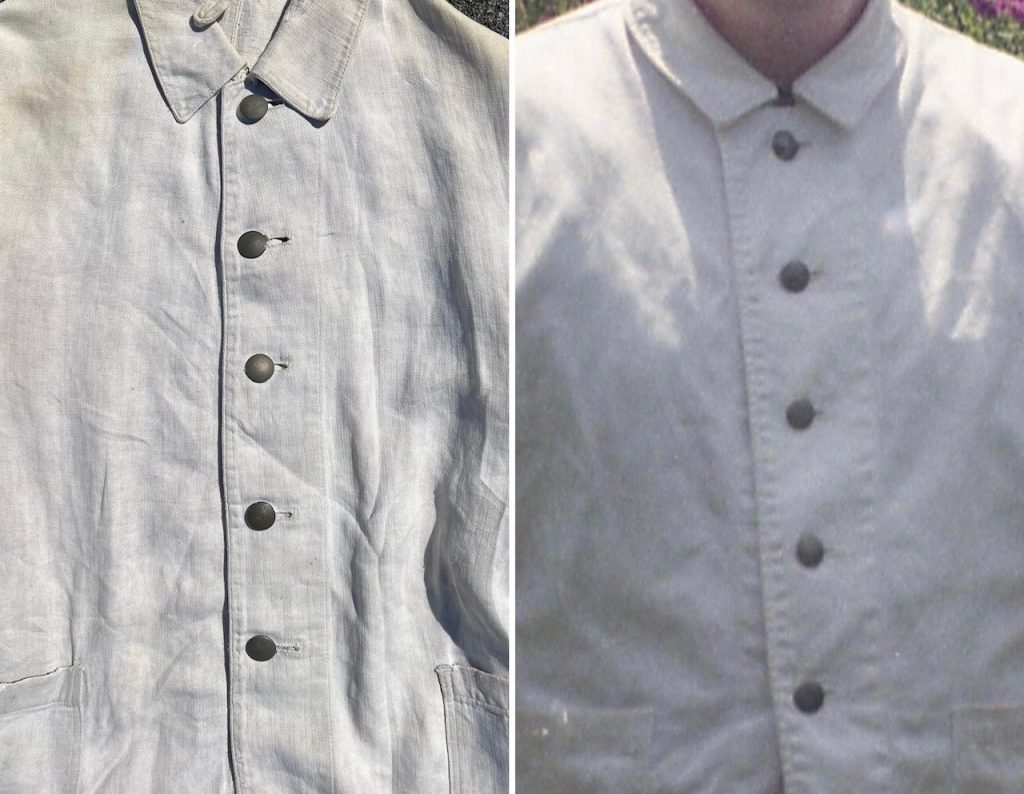 Another common issue with many reproductions is the use of overlock stitching. Overlock stitching existed in WWII and was used by Wehrmacht suppliers mostly on knit items. It is unlikely this stitching was ever used on these HBT uniforms. Most manufacturers of reproductions use this stitching style on parts of the inside of the uniforms. It is not visible on the exterior. This photos shows overlock stitching inside a jacket and a pair of trousers from two different suppliers of reproductions.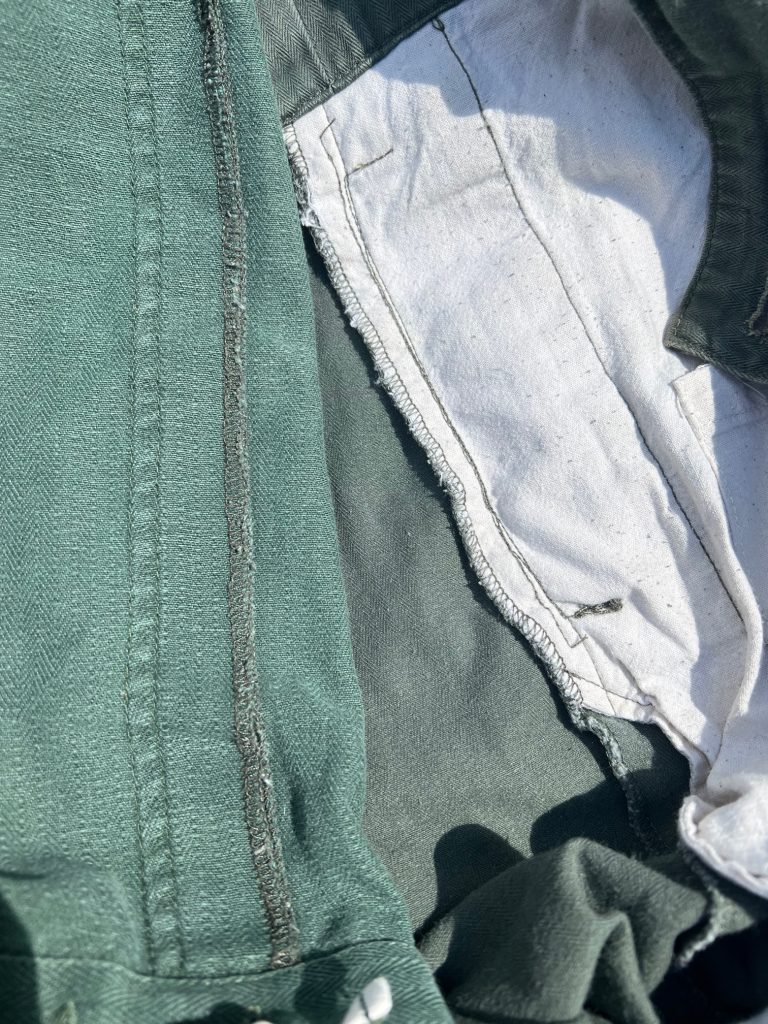 For a reason I cannot explain, some makers of reproductions include two internal lower pockets. I have never seen an original two-pocket HBT tunic with internal pockets.
Original uniforms that I have seen, had hooks and eyes at the collars, for fastening the collar, in the style of the wool field blouse. Some makers omit these details.
A perspective on reproduction HBT uniforms
In the reality of the Wehrmacht, the HBT uniform was not a glamorous thing. It was worn for training, for work details, and in the field. Generally speaking, it was not adorned with fancy insignia or awards. A reenactor, who is using this thing in the manner in which it was intended, may not particularly care about small details, that may not be visible when the garment is worn, on a uniform that is likely to become heavily soiled, stained, damaged, repaired, and perhaps, eventually, replaced. Small details may not affect how realistic the uniform feels when it is worn. Other reenactors may hold every item they use, regardless of how it is used, or how soldiers viewed the item, to the highest possible standard, and may seek out custom manufacturers who can manufacture bespoke items in fabrics as close as possible to the original, using exclusively period correct construction techniques. It is my hope that the information offered here may be of use to any reenactor interested in purchasing one of these uniforms, from any supplier and at any price point, regardless of their personal, subjective perspective.
Because these uniforms are perhaps not as evocative of the WWII Wehrmacht soldier as other uniform types in the minds of collectors, and perhaps because of their often simple and plain nature, they are less sought-after by collectors, and therefore less expensive. It is my personal opinion that wearing originals in the way in which they were originally intended, will inevitably cause damage to these collectible historic objects, and that this is at odds with a desire to preserve history. I would only ever wear a reproduction and would only allow reproductions to be used in my reenactment group.
Challenges of evaluating reproductions, and a disclaimer
A challenge of evaluating reproduction items is the fact that suppliers will have items made in different runs and possibly from different manufacturers at different times. These uniforms have been reproduced by various suppliers for perhaps 15 years, maybe more. A uniform purchased from one supplier today may be totally different from one sold by the same vendor a year ago. In fact, depending on the vendor, you may order a uniform in one size, and the same uniform in a different size, and get items made by different manufacturers at different times. The information in this article is the information that I have. It is the information I would give to members of my reenactment group looking to buy one of these, and if possible, I will update it, if things change. It should not be regarded as a final, authoritative word. I have not exhaustively studied every variant of original that might possibly exist.
Comparisons of original fabric with reproduction fabric used for uniforms from various suppliers
This is the part of the article where I will finally discuss who actually makes and sells these uniforms and where one can get them.
Here are some photos I took in 2019 showing reproduction uniform parts compared to original fabric. The uniforms sold by these vendors in 2019 and before may or may not use the same fabric as uniforms sold by these vendors today. My camera may capture colors differently from how I see them, and colors may look different on different monitors. It's my opinion that, generally speaking, the available reproduction fabrics, visually, appear to fall within the original range.
This photo compares a fragment of an original Wehrmacht HBT uniform, to fabrics used by At the Front, Hikishop, Gavin Militaria, and Hessen Antique.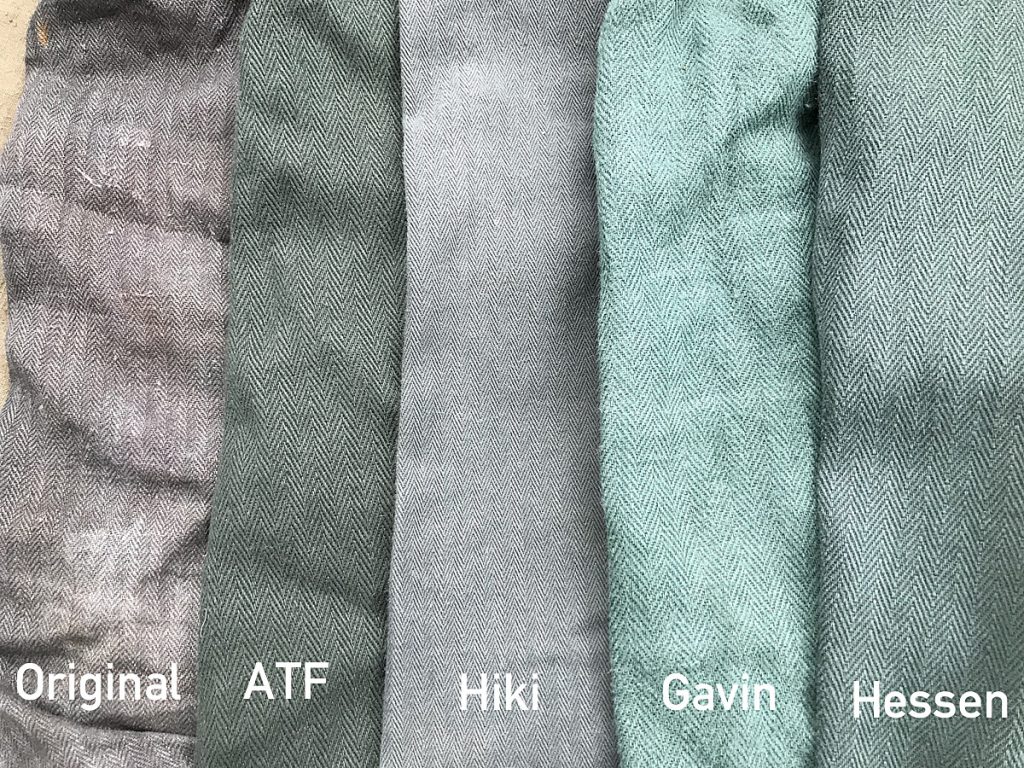 All of these images show reproduction fabric compared to two original samples: the uniform fragment shown above, and an original undyed first pattern jacket (click to enlarge).
Where to buy these?
Note: I am not evaluating the buttons as these are easily changed. The pebbled buttons on the original jackets were removable for laundering, affixed with S-rings.
At the Front offer only the green, second pattern tunic. At the time of writing, the size availability is limited. It's my opinion that these are as good or better as any reproduction of these that has been made. I strongly recommend these to members of my group if they are available in a suitable size. The rear inside seam uses the selvedge edge of the fabric which is correct (most other makers use overlock stitching here). The attention to detail with these is superb.
Hessen Antique stocks both the green and white tunic and trousers. These are quality reproductions, made of a durable, sturdy fabric that wears beautifully over time. The colors of the items are within the original range, the green will fade nicely from sun exposure. The jackets do have the (fixable) placket error, and overlock stitching is used inside. I regard these as very usable if the placket is fixed.
Hiki also sells white and green pants and tops. The green uniforms are in a grayish shade that I do not believe is incorrect. The jackets have the placket issue, and internal pockets. I bought a pair of green pants from them and a small hanging loop that is supposed to be on the inside waist in the rear was sewn to the outside. It was an easy fix. They do have the oveerlock stitching. The white trousers shown on their web site are a fantasy item, a later pattern, not correct.
Gavin sells the white and green tunic and trousers. The second pattern items use a bright green material that does not fade. I do not believe the color is incorrect. The fabric is linen or a blend, with a nice sheen when new. The jacket in the photo on their site has the correct front placket, and no internal pockets. It does have the overlock stitching, as do the trousers. The fabric is fairly thin and, in my opinion and experience, not as durable as that used by ATF, Hessen or Hiki, but it is thicker than that used by Epic.
Epic Militaria sells the first pattern jacket and trousers, mislabeled as a "workers" uniform. This same product was also previously sold by Zib Militaria. The jacket has a correct placket, but is missing the collar hook and eye (easily added). The material is very thin, almost shirt weight, and not likely to stand up to extended, heavy use.
Military Harbor is the newest maker of these, as far as I am aware. The white and green tunic and trousers are offered. A friend bought the white set and raved about the quality of the material, which he regards as fantastic. The jacket uses modern overlock stitching inside, and has internal pockets, as well as provisions for shoulder boards, which should not be there. I have not handled the HBT uniforms from this maker myself.
My personal, subjective buying recommendations
White tunic: if you can fix the placket, or know someone who can, or if you don't care about this, get it from Hessen. It's a sturdy fabric, a nice reproduction, cheaper than Military Harbor. Otherwise, if you can't fix the placket, order from Gavin.
White trousers: Hessen, Gavin or Military Harbor
Green tunic: ATF if possible, otherwise Hessen or Gavin.
Green trousers: Hessen, otherwise Hiki if you want a grayish-green, Gavin for bright green. I haven't handled the green HBT from Military Harbor.