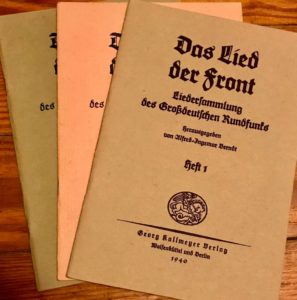 "Foreword
Anyone who has ever worn the gray tunic knows the power of the soldiers' song. He knows, what mysterious power is hidden in such a song that can, for a whole Kompanie, a Bataillon, after great exertions, lift them back up again and prepare them for new achievements. But he also knows how the soldiers' song, powerful and yearning, funny and serious, can improve so many nice evenings in barracks or in quarters, in the field or in the training area. The whole many-sided life of… a soldier is reflected back in these songs. And then he might grab paper and sheet music and forge lyrics and melody together, that arise from soldierly experience. Many such songs have been carried over into the body of songs of the German people, and become collective property. We remember the many soldiers' songs of the World War, when often nobody knew who wrote them or who gave them melody. They were sung and carried on from one end of the front to the other. This one or that one would add something to them, set them to one or another tone, and in this way such songs became true communal products of the front.

It is for this reason that, a few weeks after the beginning of this war, I made the decision to request soldiers to submit the songs and melodies of this war to the greater German broadcast agency, so that they wouldn't be lost, and over the etherial waves could very quickly become communal property of all German soldiers and the homeland. This request was met with surprising success, and once again showed how much musical power is in the German people. There are again great composers, and great poets, who nevertheless understand how to sing in the spirit of the people.
The continually surprising success of this request proved me right. There were not thousands, rather tens of thousands of submissions, all of which were seen and checked by the editors and our coworkers. And the results, that were added to German song in this way, has contributed some very valuable achievements to the treasury of songs of the German people.
Volume 1 of this song book has already achieved record sales of more than a million copies. Volume 2 is not far behind, and the publishers and printers have their hands full trying to fill all the requests. Now volume 3 and others in the series will be sent out, so that the new soldiers' songs can be carried in every bunker and trench, every airfield and patrol boat, and so that you, Kameraden, can truly take part in these songs.
On behalf of the greater German broadcast agency:
Alfred-Ingemar Berndt
Principal and Leader of the Broadcast Department of the Reich Propaganda Ministry
currently a Leutnant in a schweren Panzerjägerabteilung"
Three volumes total were produced, the link is to a PDF of all 3 volumes.