This German M40 pattern Feldbluse (field blouse) was made in 1940.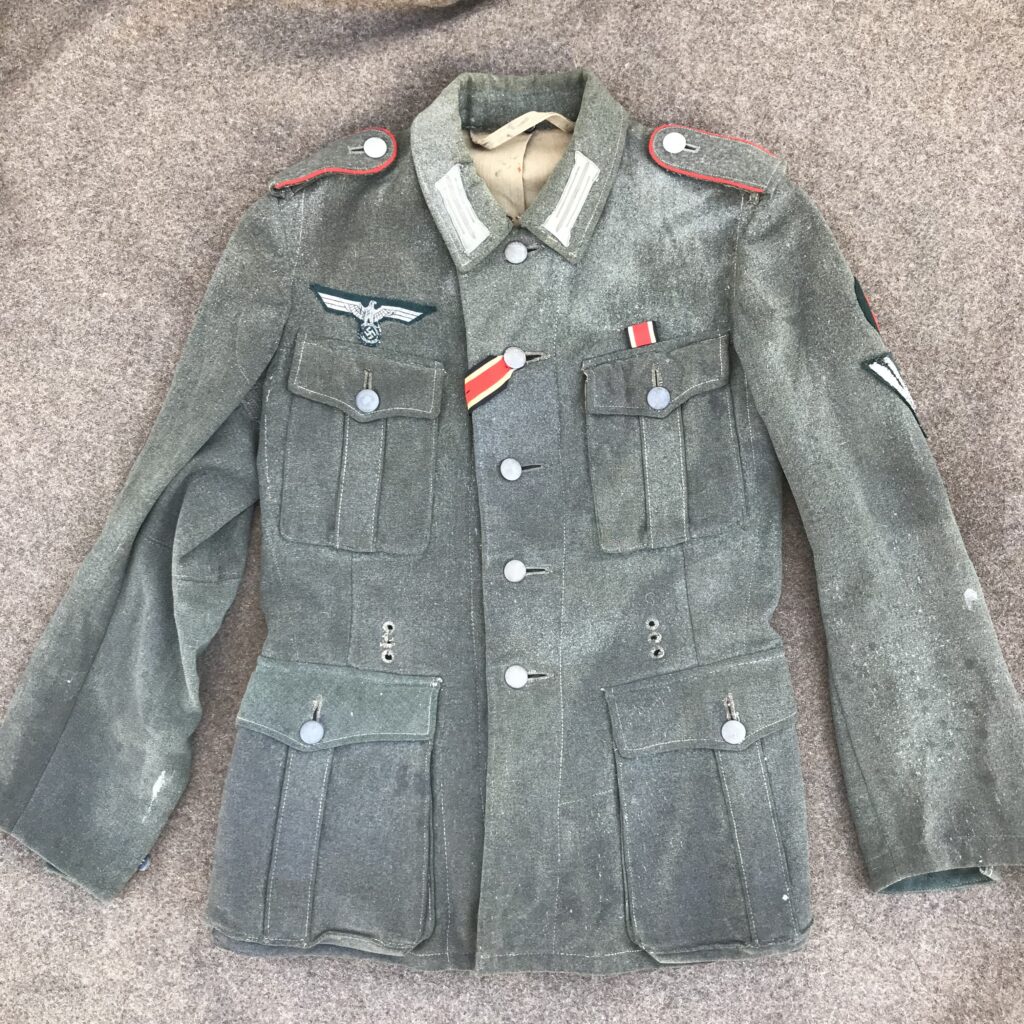 This was offered for sale by a seller who claimed it was an untouched and all-original field blouse, found in an attic. Many collectors scoffed and insisted that because the breast eagle is not a factory application, this must be a jacket that was worn postwar and restored. I saw the typical depot type repairs and suspected that this was a reissued jacket, worn by more than one soldier, in which case reapplied insignia would be normal. I took a chance on it and having it in my hands, I am sure that the insignia are wartime applied, that it was worn like this. The presence of the EK2 buttonhole ribbon and ribbon bar is non-regulation and the ribbon bar could have been added after the war, perhaps even by the original owner (and perhaps not), but I have left it as found.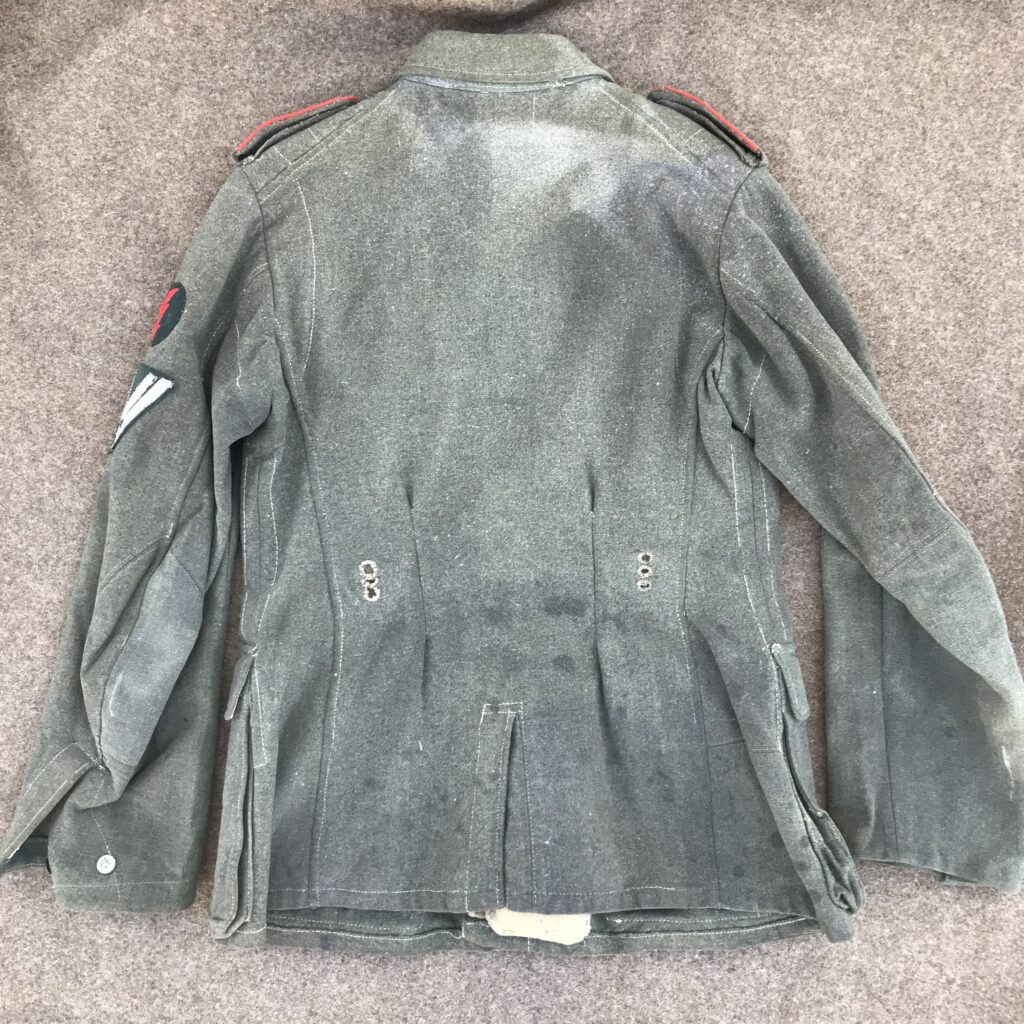 It is very hard to find an original uniform like this, worn by a soldier in his daily life. Most surviving uniforms were hanging in closets or were in factories, depots or tailor shops at war's end. Those are the types of uniforms most collectors are accustomed to seeing.
I took these pictures to showcase the various personal and depot repairs to this threadbare and hard-worn jacket.
The buttonholes have been repaired or reinforced, possibly by the soldier himself.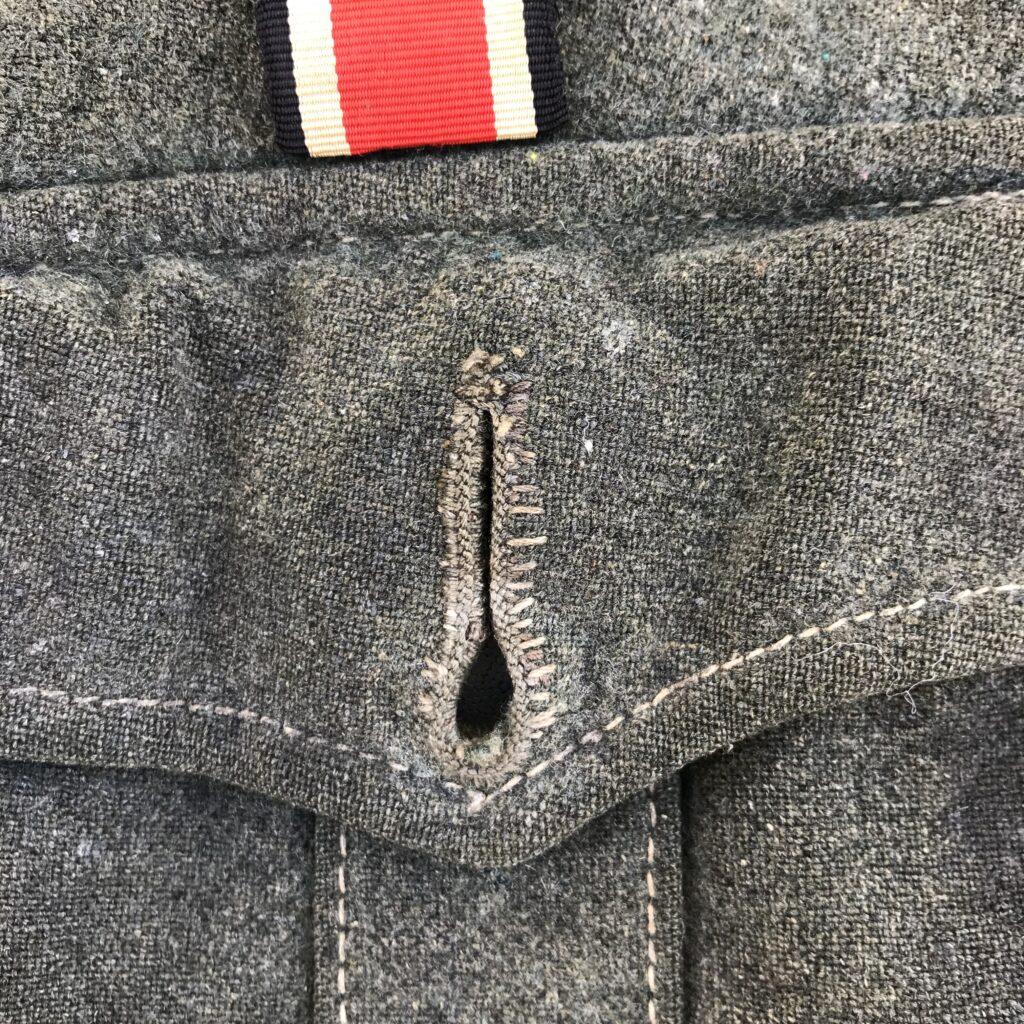 One corner of one lower pocket was replaced, and a new flap was added to that pocket, in a slightly different color shade. These are depot repairs done to prepare this worn-out garment for reissue.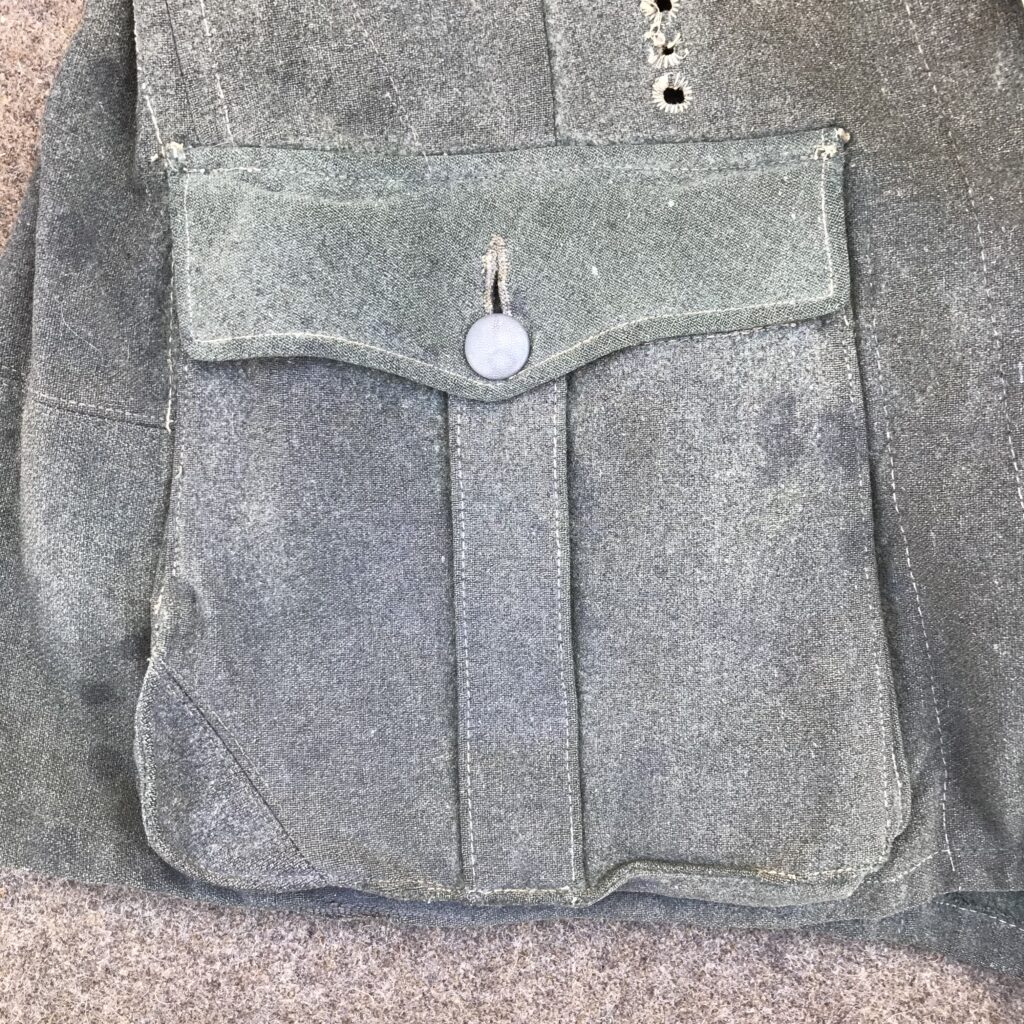 The sleeve ends were altered, with a reinforcing strip of wool sewn to the inside of each cuff. It appears that the sleeves were shortened.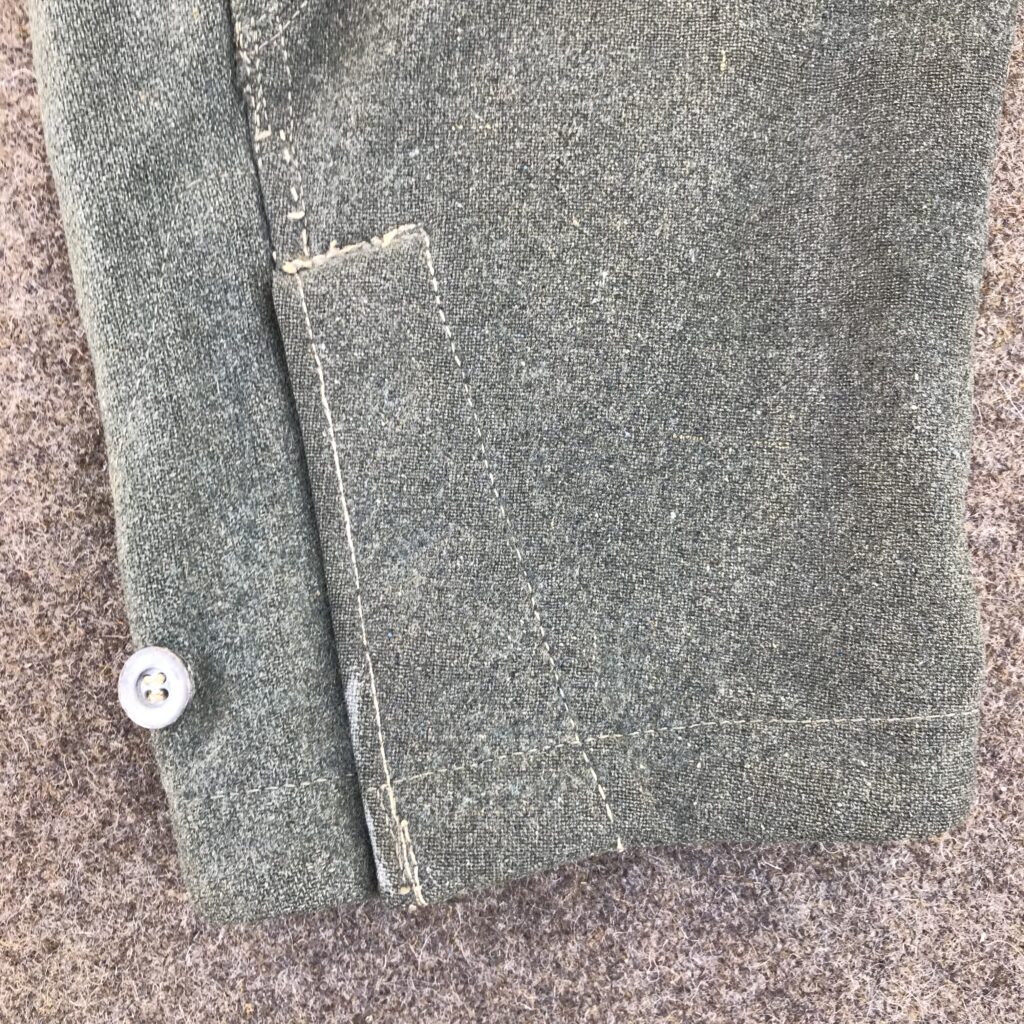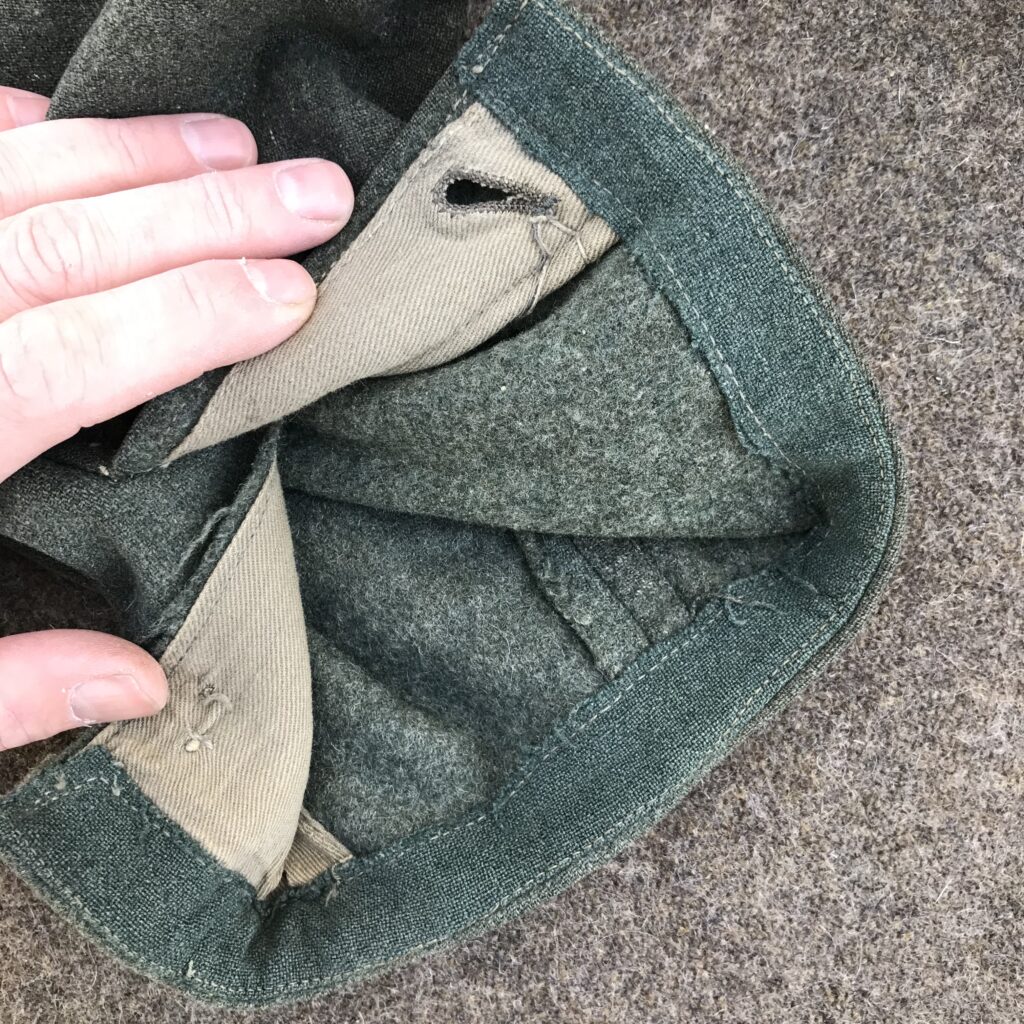 There is a machine sewn repair to a wear hole in one armpit.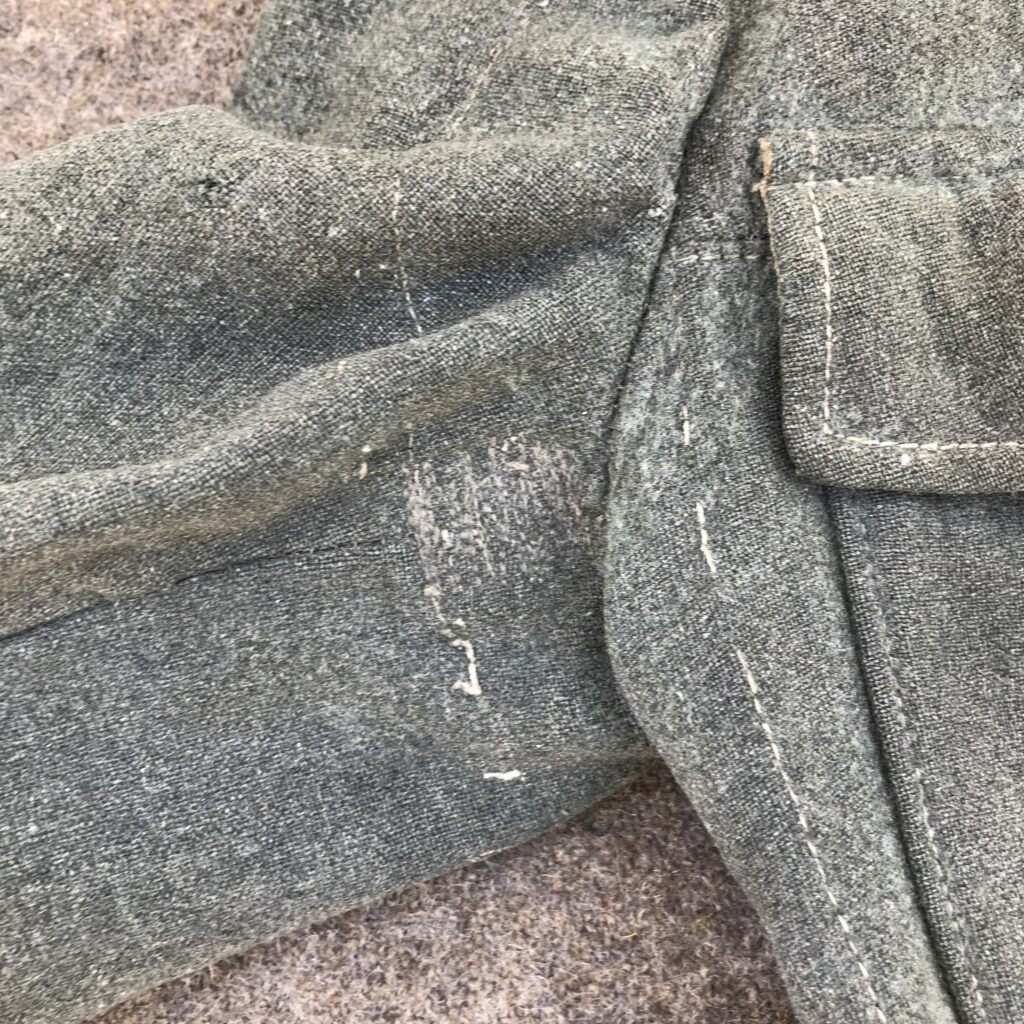 Half of one sleeve panel has been completely replaced, as well as the elbow area of the other panel of that same sleeve.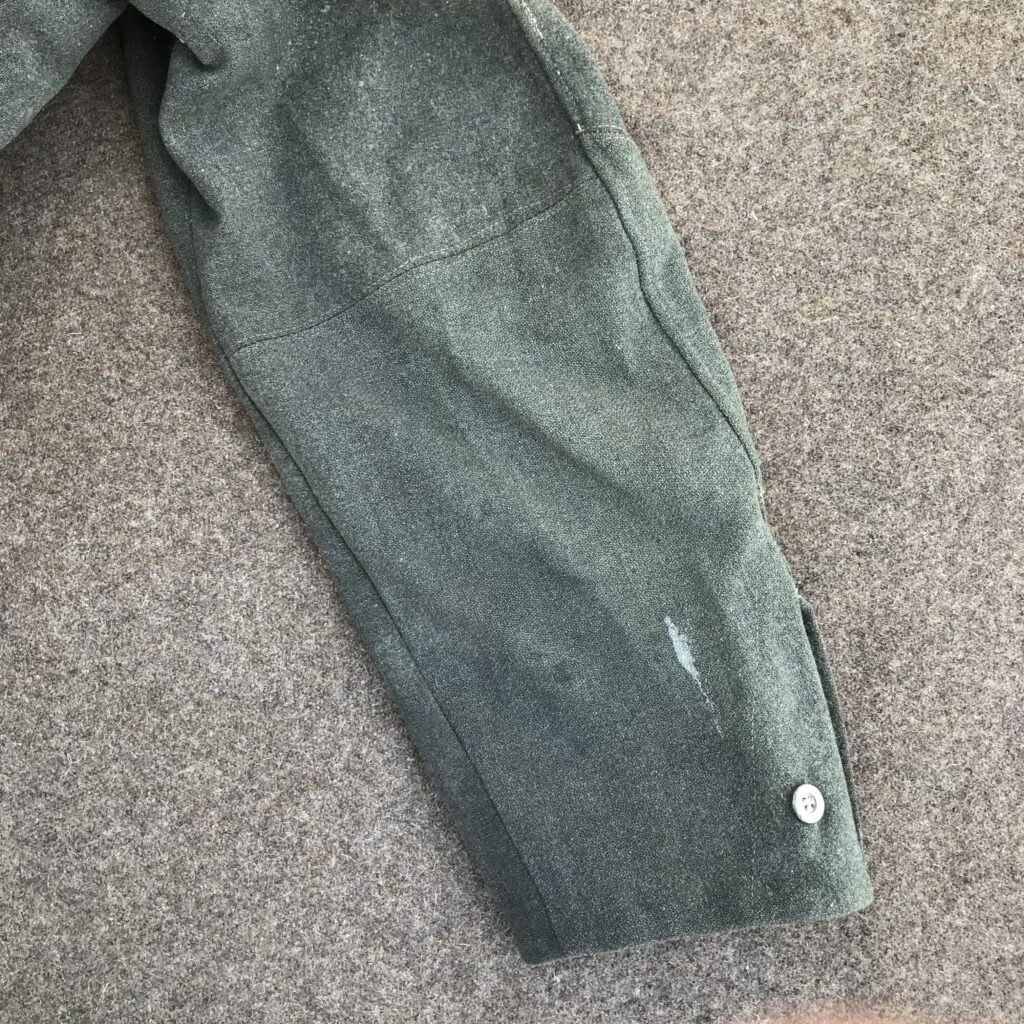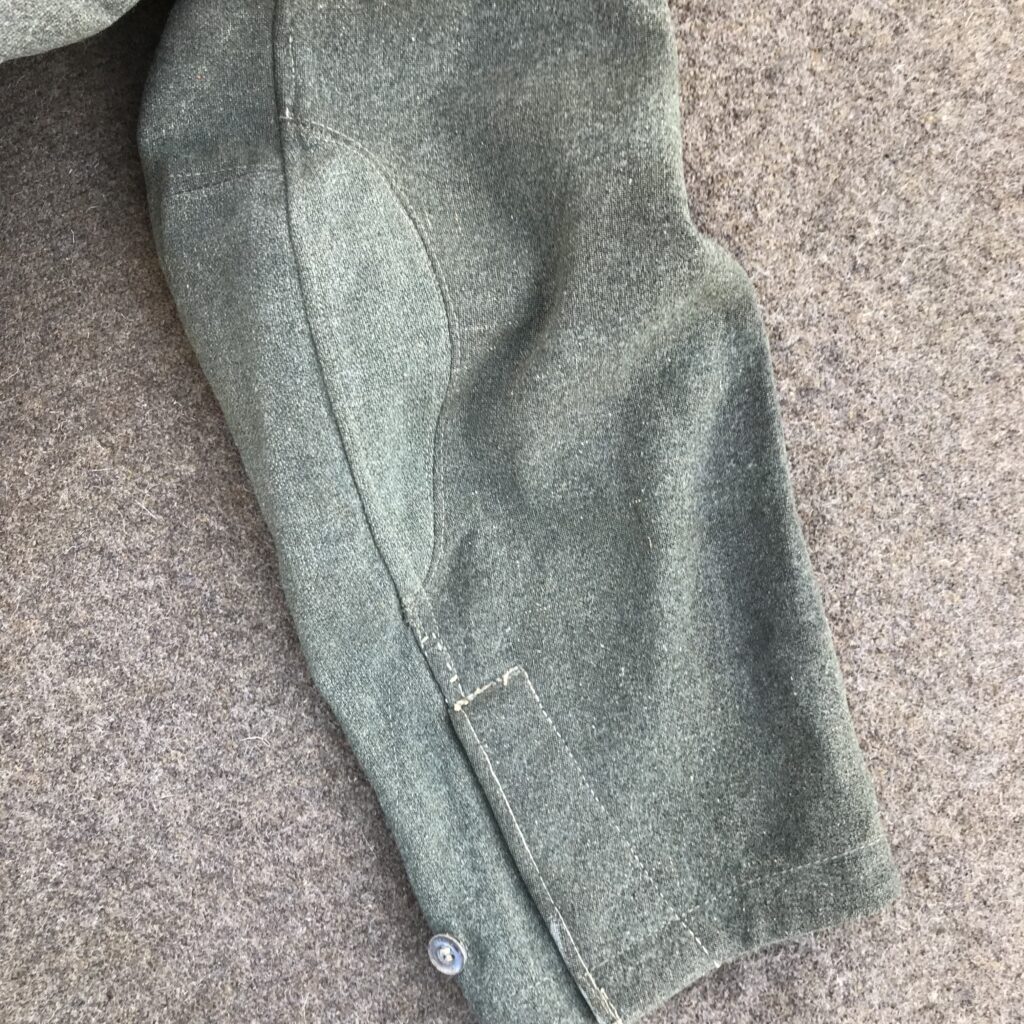 The elbow areas of both panels of the other sleeve have also been replaced. These elbow repairs are all typical depot repairs, seen on reissued items.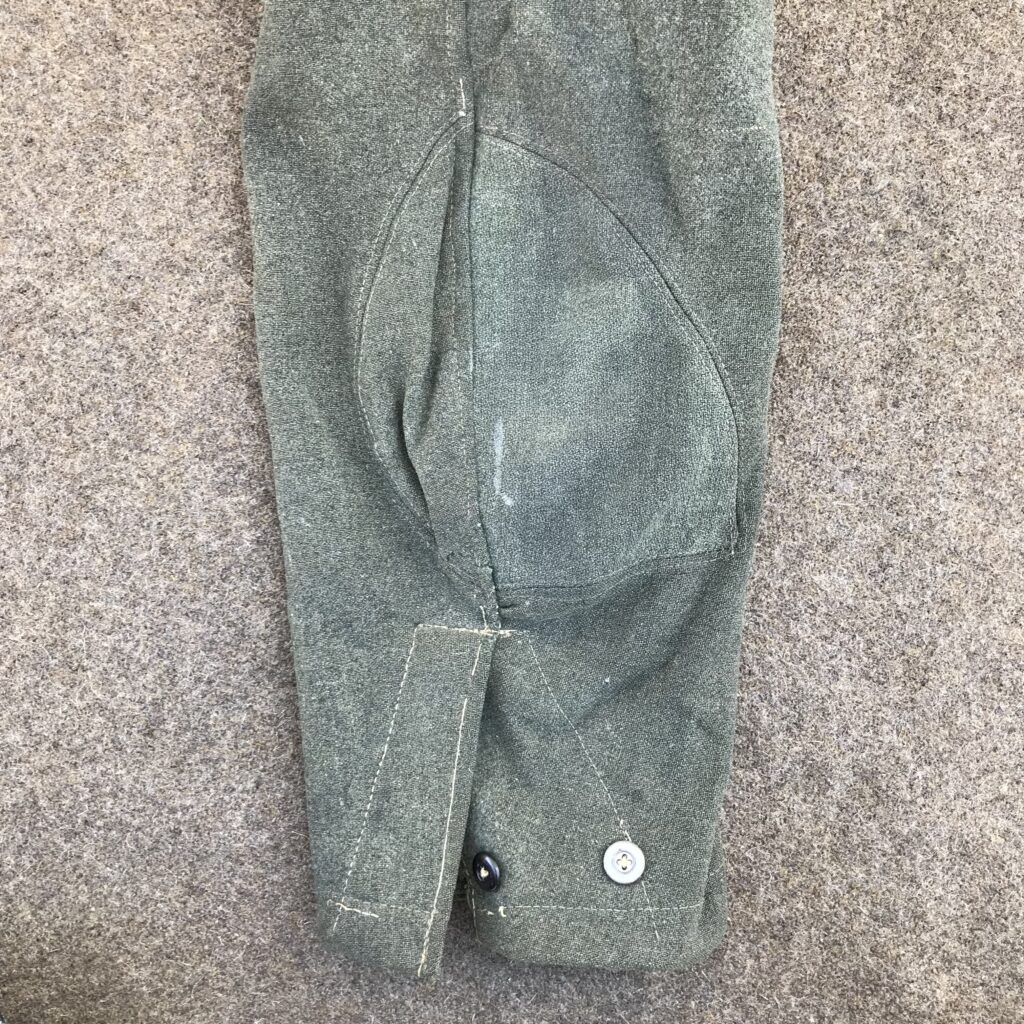 Some of the belt hook eyelets are repaired by hand, possibly by the wearer.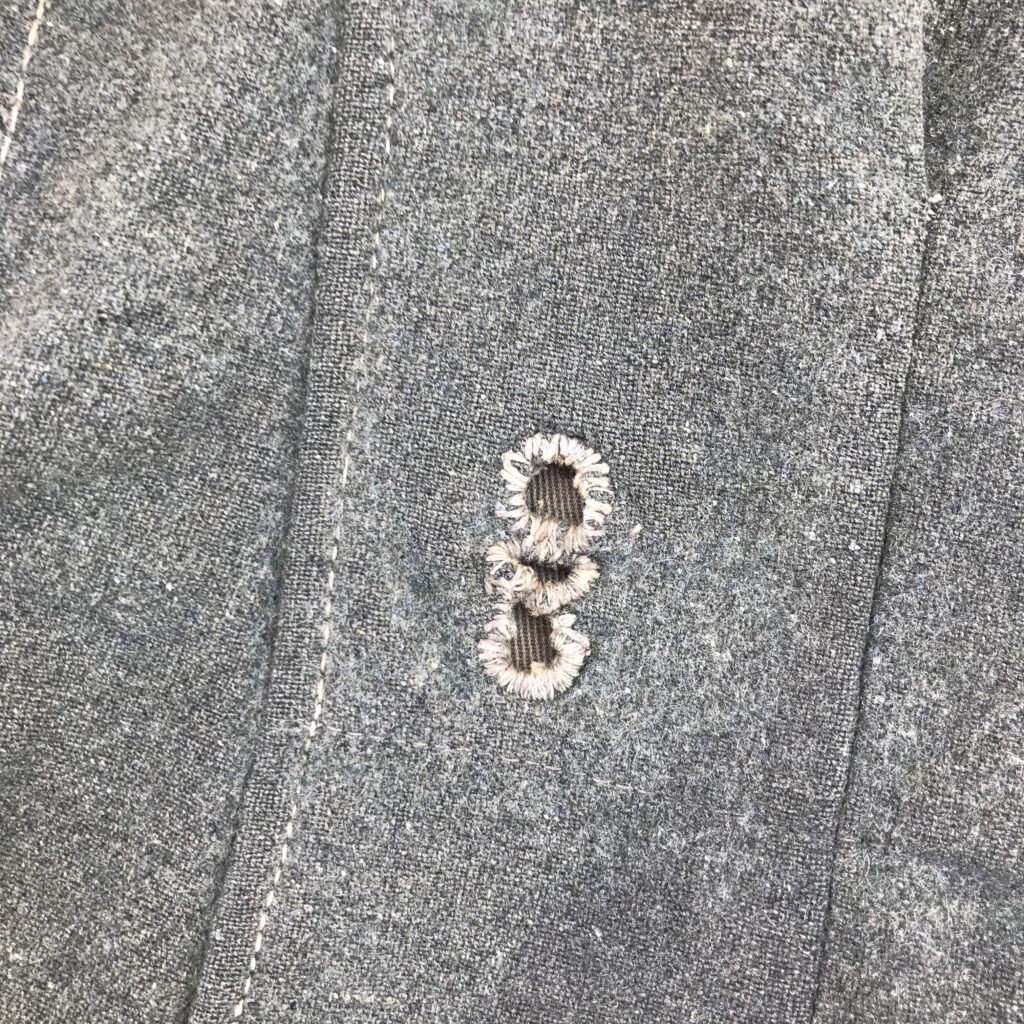 -One of the hooks for retaining the internal suspender ends tore off, leaving a hole in the lining. This hole was neatly patched by hand, the edges of the patch neatly tucked underneath, the patch applied with tiny whip stitches.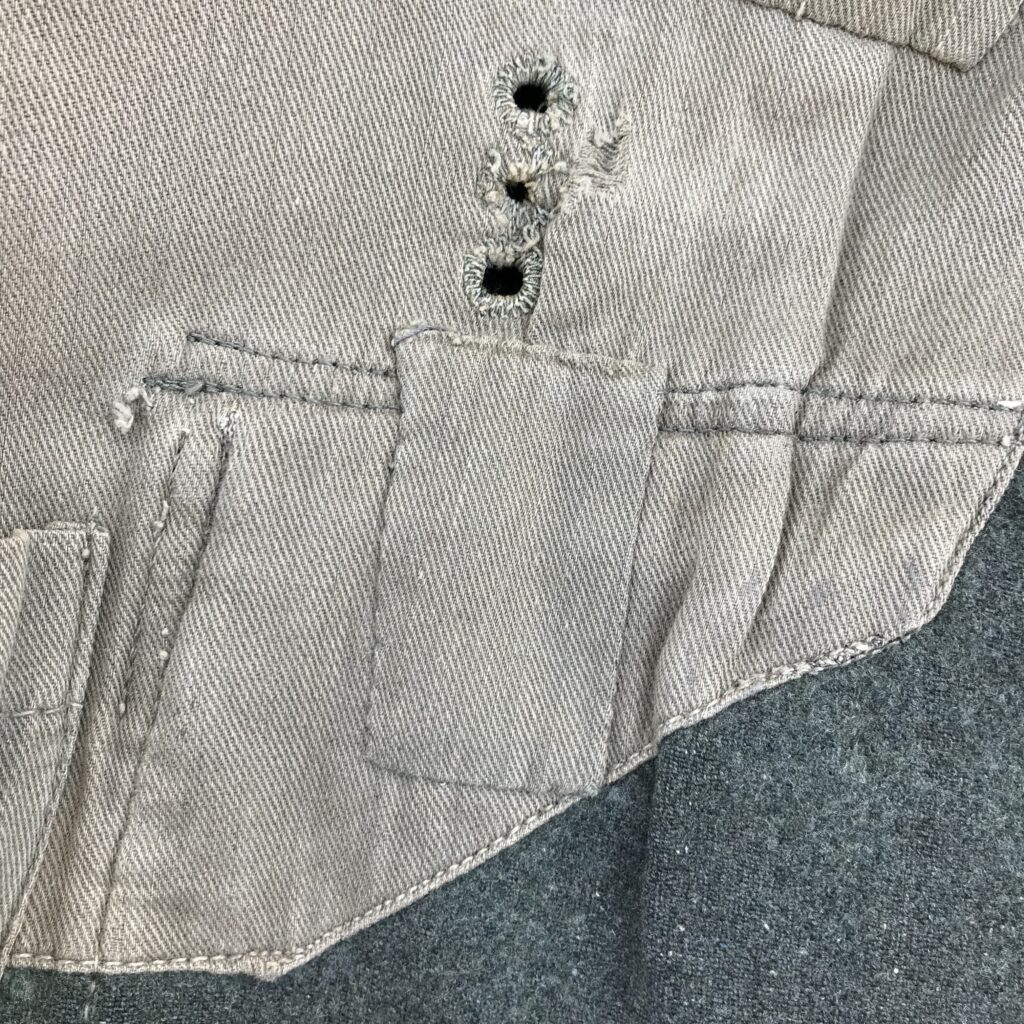 This photograph illustrates the difference in wear between the exposed collar edge, and the protected wool that was underneath the collar liner (Kragenbinde).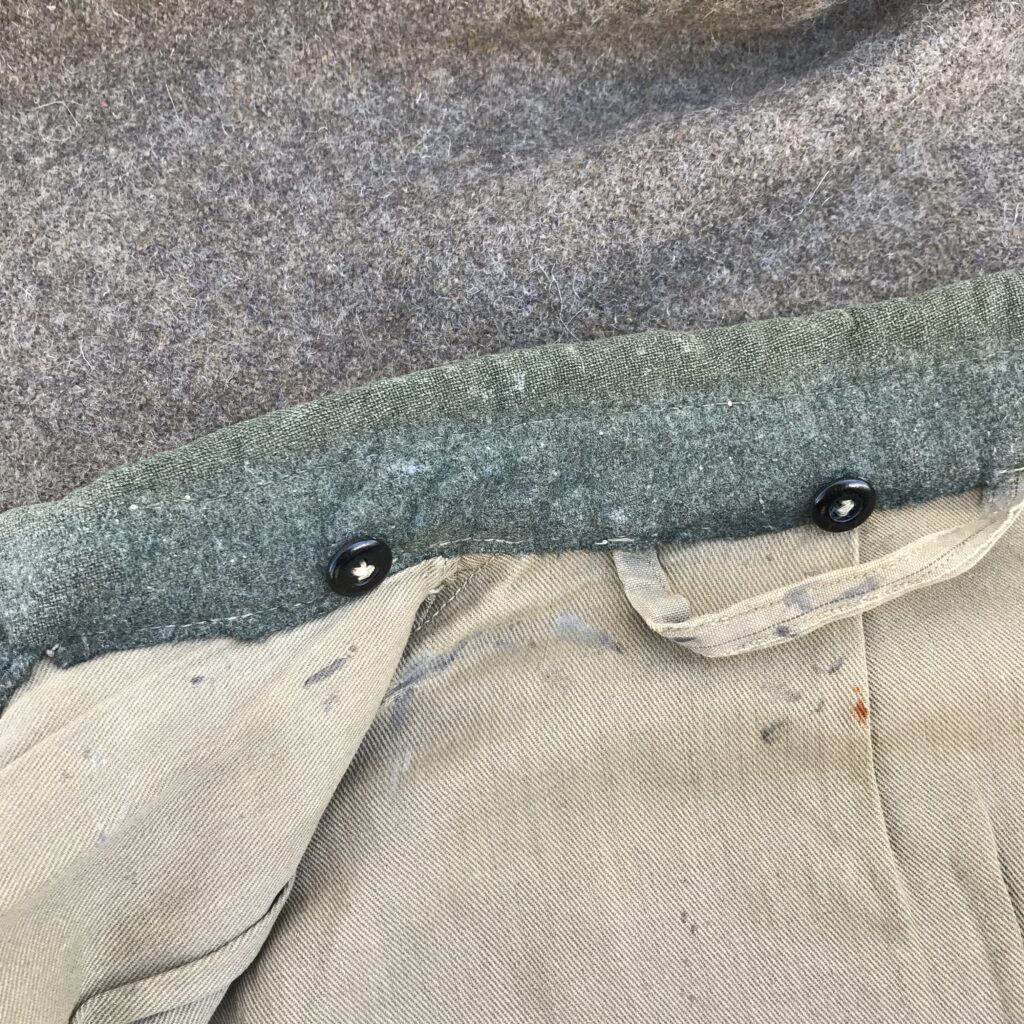 Faded size and depot markings are still visible in the lining.