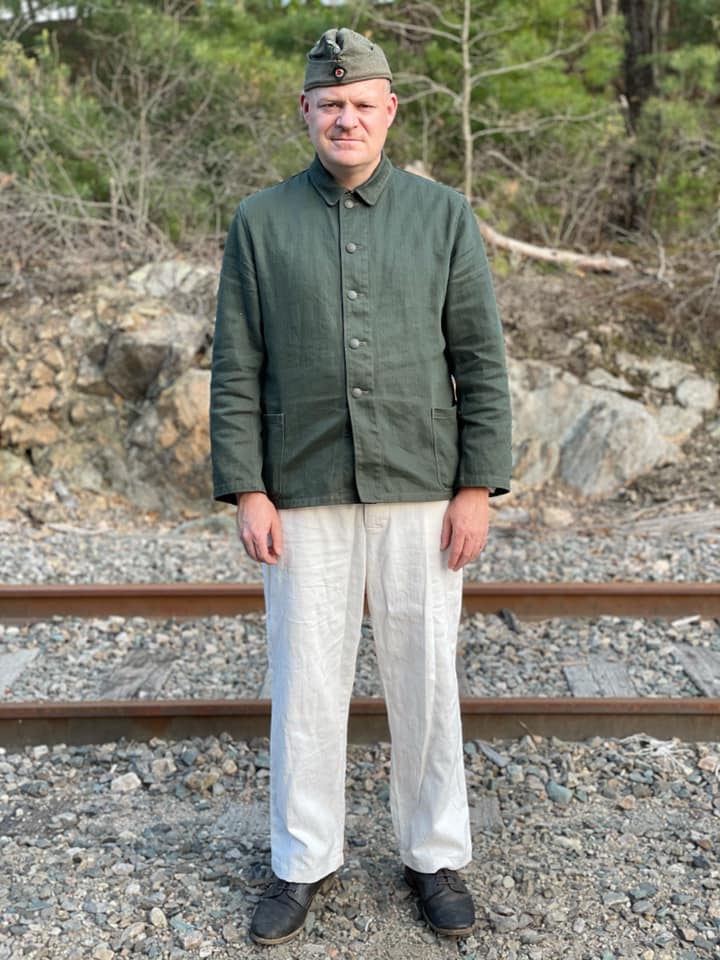 This uniform setup would be appropriate for July 1942 through the end of the war in many settings. It could be used to represent a soldier in training, in a barracks or garrison, or in many field situations doing various camp tasks such as work details, cleaning weapons, field training etc. A whole group of people attired the same way could be a very convincing and correct appearance that would apply to many types of training and immersion events, or public displays of Wehrmacht camp life, particularly in warm weather. This is probably the cheapest uniform that one could acquire that would be versatile enough to be used in so many situations. A group could mix and match white and green uniform parts as was commonly seen.
Cost breakdown:
M34 field cap $25
Cap insignia $10
Linen Henley shirt $28
M40 HBT jacket $70
Suspenders $20
M33 HBT trousers $56
Low boots $95
Gray wool socks $4
Total price $308 plus shipping costs
Add soutache to the cap and this could represent 1940-42.
One could customize and upgrade these items with name tags, correct size stamps and maker marks, different buttons, etc. One could also upgrade this kit with better boots and/or a better shirt.
Obviously, someone who wants to participate in combat events would have to focus on the (more expensive) wool uniform and field gear, rather than this more daily life oriented setup.