The "Tornister-Lexikon" is a guide filled with tips for living in the field. It was was published by the Wehrmacht in 1943 and was intended to be distributed by soldiers and circulated among them. The "Tornister-Lexikon" contains recipes, first aid instructions, and advice on how to clean and take care of all kinds of uniforms and gear, how to make things like field expedient stoves and lamps and brooms and mattresses, how to make a wool blanket into a sleeping bag, how to make a fishing pole or set up a field darkroom, simple carpentry and building, bushcraft stuff like building a fire and tying knots and repelling pests, and other handy tips.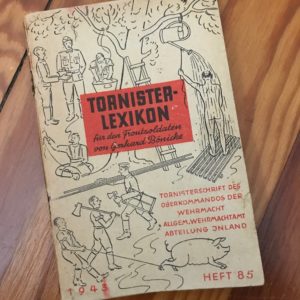 The following tips for caring for and maintaining clothing items are found in this book.
Care of Clothing
-Clothing that can be boiled should be soaked 12 hours in carbonated water and frequently pressed out, to dissolve soils. Wring it out, and when possible, rinse afterward. 30 minutes before adding wash powder, soften water with soda [sodium carbonate]. Then add wash powder according to the package instructions, and put it on the fire. Bring to a boil, boil for 5 minutes and then simmer another 10 minutes. Let it cool a bit, wash it well, hot, lukewarm, cold rinse, wring it out, hang to dry.
-Iron trousers only after thorough beating and brushing to remove stains. Lie trousers flat (seam on seam) on ironing board or a table covered with a wool blanket, put a clean, moist cloth on top and iron with a hot iron using lots of pressure. To fully cool and dry them, hang them in a tensioner. If you don't have an iron, lie trousers flat under the bed sheets and sleep on them.
-HBT uniform and bread bag are washed in warm water with washing powder, and not wrung out, rather lie them together and press the water out. Hang to dry after thorough cleaning, After drying, grease the leather parts of the bread bag and polish them.
-Do not hang soaked clothes too close to the oven. Spread them out over a frame or the back of a chair, or hang them on a line, 1.5 meters from a fireplace or open fire, or 1 meter from an oven or radiator, to dry.
-Always make repairs using fabric that matches as closely as possible, same with thread. Secure edges of repairs with pins. Using small stitches and proper thread (yarn, thread, silk thread, cotton thread) sew on and iron.
-Do not wash overcoats, field blouses, jackets or pants, rather thoroughly beat them first from the left side, then from the right side, then brush them out well while laid on a level surface.
-Darning. Do not sew holes together with thread, rather make close together, parallel stitches across the hole using wool or cotton thread (depending on whether you are repairing fabric or wool socks), then go the other direction, weaving style, with closely spaced darning stitches, without causing the edges to bunch up. Always darn small holes immediately.
-Wash knit items in warm water (not hot!) water with soap, rinse in lukewarm water until the water stays clear. Lay on a clean cloth to dry, hang socks.
-Zeltbahnen and impregnated fabrics are not to be washed, rather cleaned dry (brushing and beating).
Sewing on buttons
Remove the remains of previous stitching thread. Sew on buttons with sturdy thread. To achieve the spacing between the fabric and the button when sewing, lay two-hole or four-hose buttons over a thick needle or a match and tighten the stitches over this. At the end, wrap the stitches under the button with thread and knot together.
Replacement of trouser buttons
In place of a missing trouser button, if necessary, a round or oval small piece of hardwood can be used. The holes for stitching can be burned through with a red-hot sewing needle, as if you try to drill them with a drill the thin wood will split.
Clean tunic and overcoat collars by brushing with ammonia solution, then washing with soapy water and rinsing with clear water.