This original German Army M36 field blouse has many interesting features. Most notably, this has been depot or factory resized.
The original factory applied size stamps are in the usual place, behind the placket on the buttonhole side. This was originally made for a chest size of 128 cm (about 50 inches)- a huge size. The tunic is dated 1939.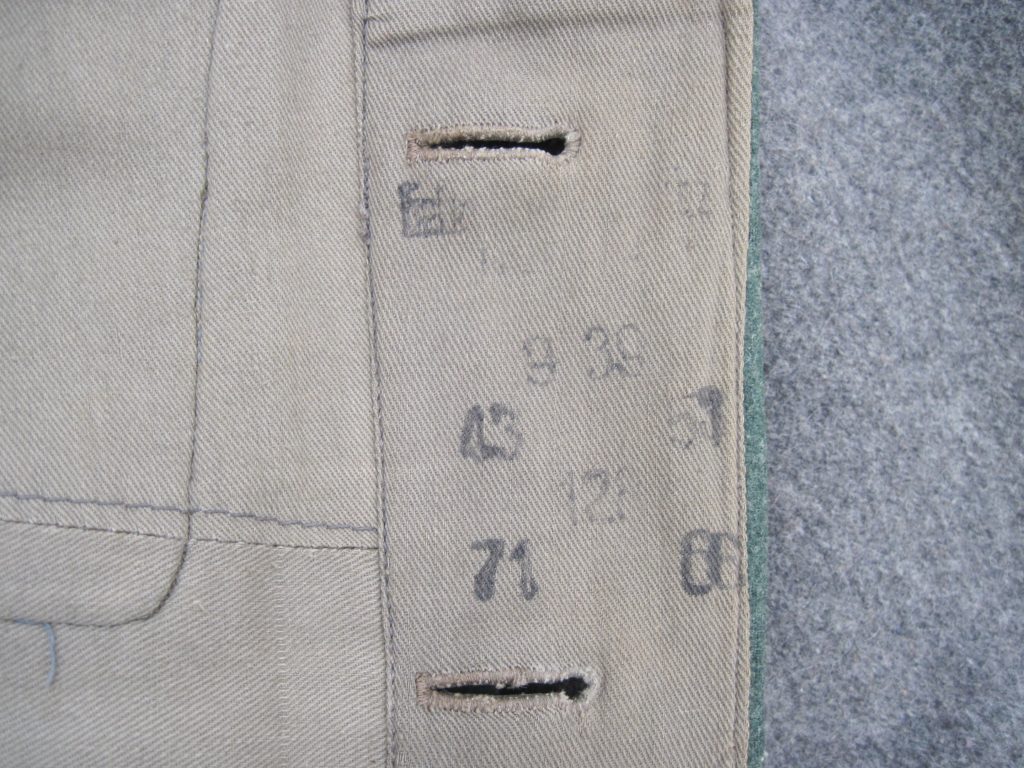 On the opposite side of the placket is a new set of size stamps with the new measurements. The new chest size is lightly stamped, but it's about 90 centimeters (35 inches). This drastic resizing has resulted in some unusual features, including oversized pockets and a seam on the rear of the collar. The new size stamps are also maker stamped with "Brago," a marking also seen on other surviving reworked and reissued garments.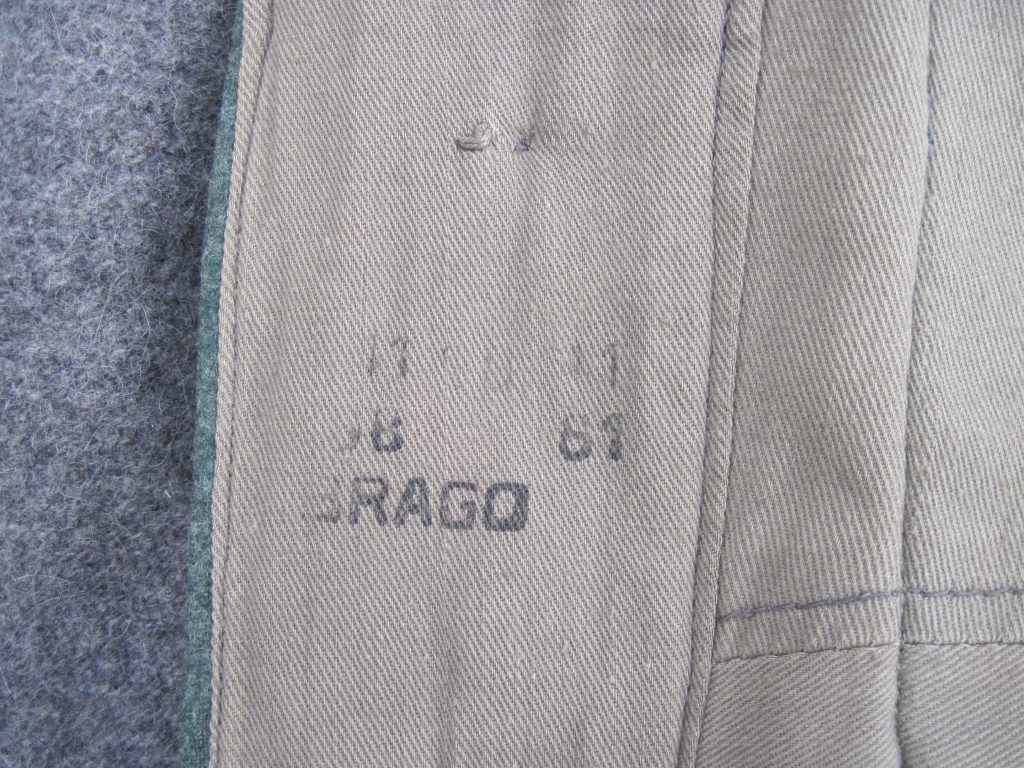 This tunic boasts a very fine quality, private purchase breast eagle. It is machine embroidered on a backing of dark green wool badge cloth, and has been hand sewn to the tunic.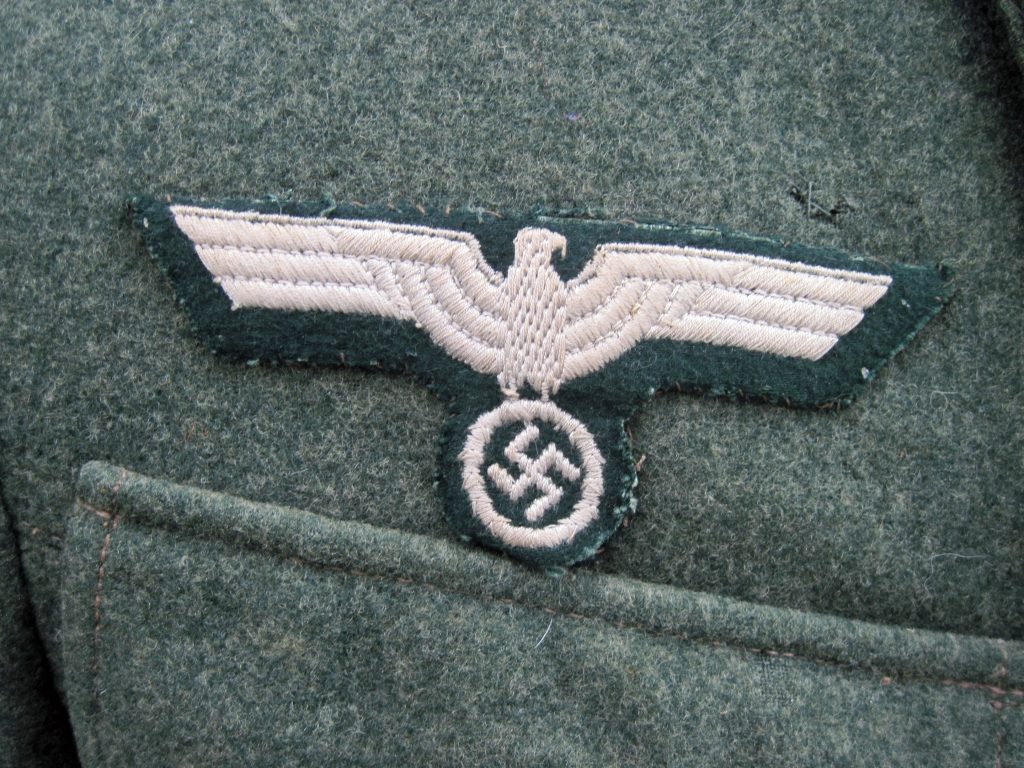 A few of the stitches used to apply the eagle have separated along the bottom edge. Careful inspection reveals that the private purchase eagle is sewn directly on top of the original Bevo machine woven eagle. This eagle is also hand sewn and may have been applied at the factory when the tunic was originally made.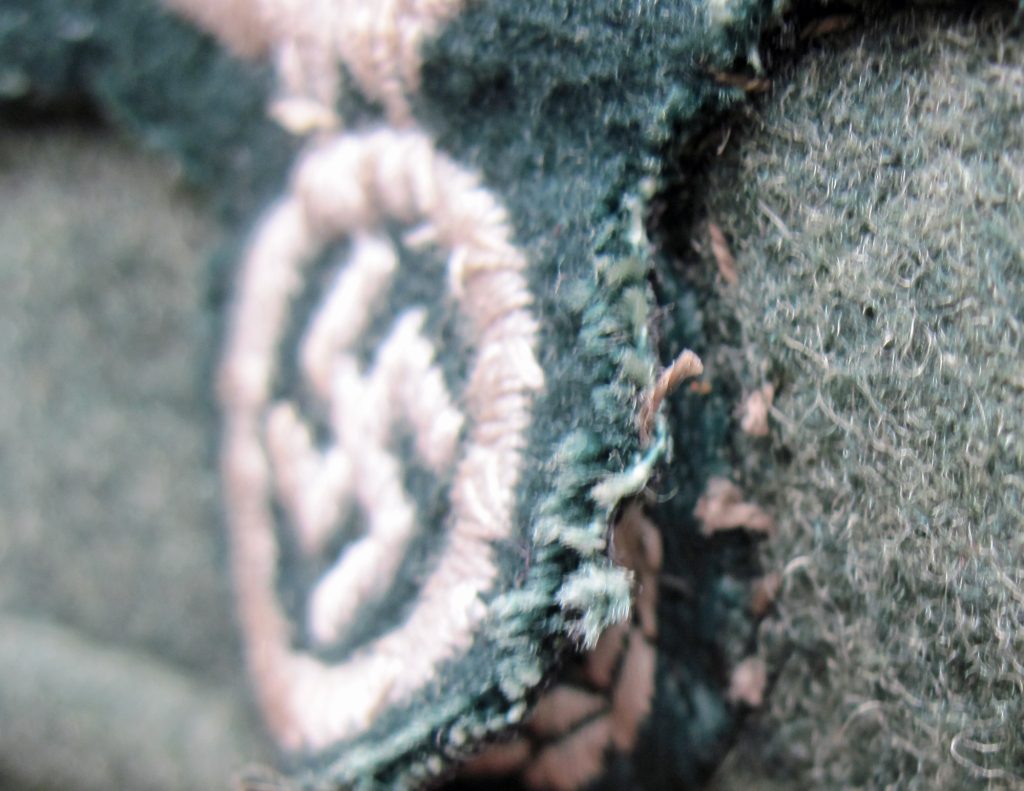 The collar of this tunic features backed Litzen. The Litzen are a very early pattern, with a light green central stripe and pink Waffenfarbe for Panzer or Panzerjäger units. These Litzen are machine applied, and though the application is plausible for a factory style, it's likely these were changed at some point during the course of the war. The NCO Tresse is an interesting variant that appears to be made of celleon, and shows age toning.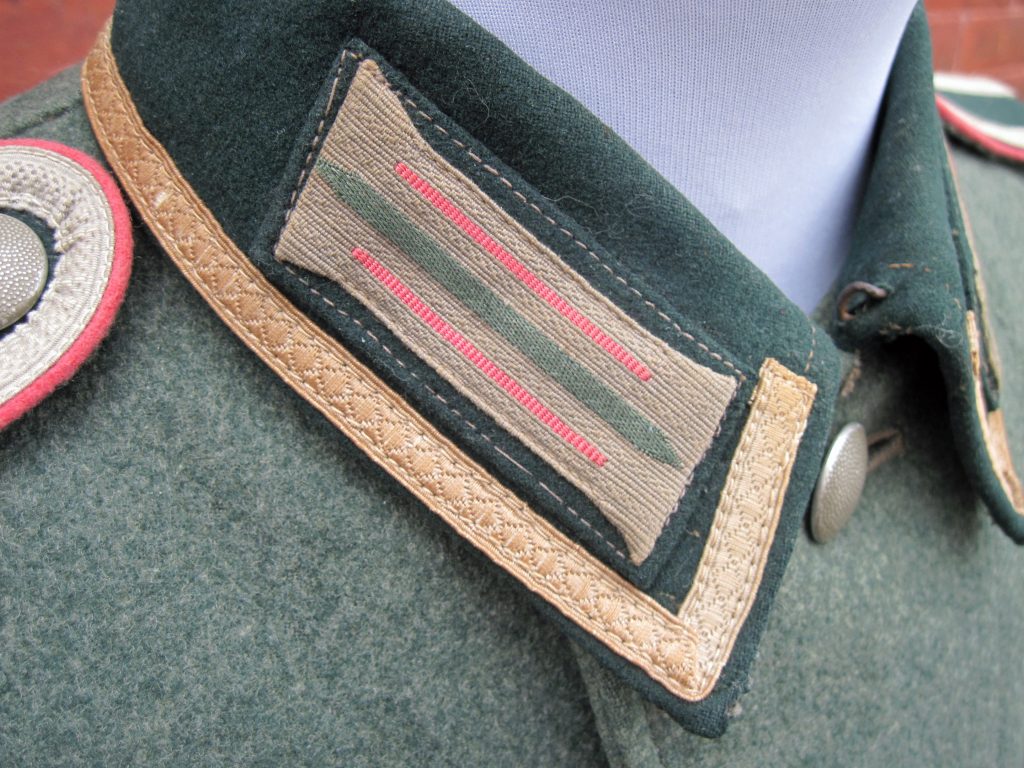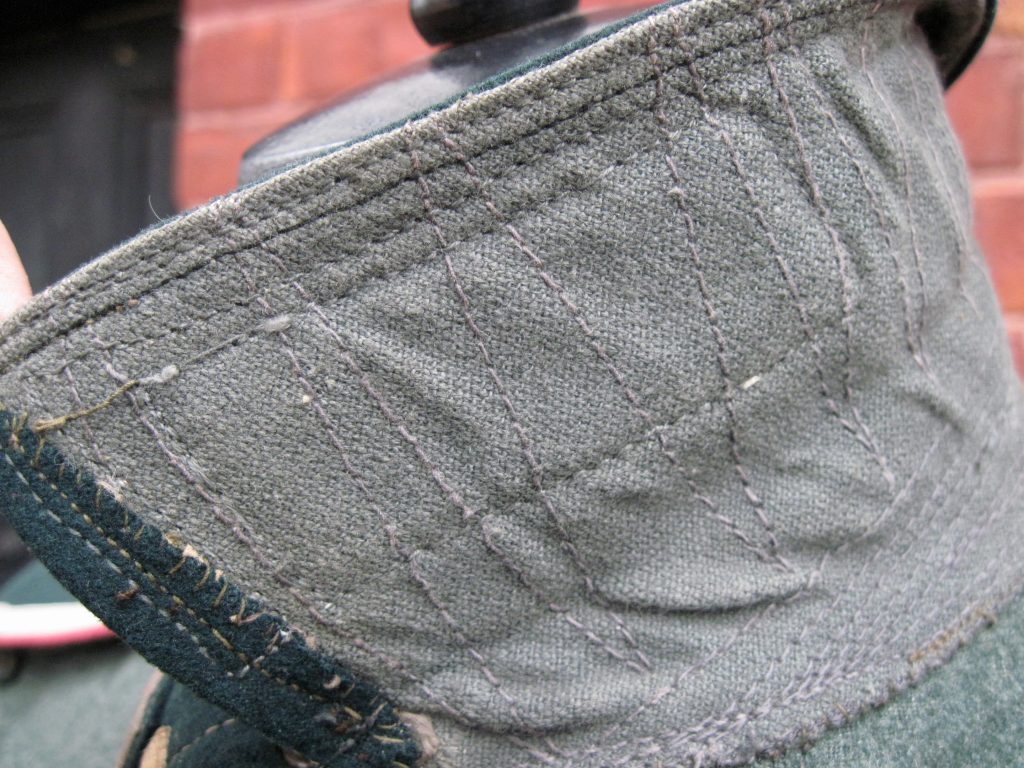 The previous owner of this field blouse told me that when he got it, it had light blue piped shoulder straps, for Nachschub units. Because these did not match the color of the Waffenfarbe on the collar tabs, he removed and sold them. I think it is possible that these were original to the tunic, as wartime photos do show these mismatches in some cases. I added the straps currently on the tunic, prewar Panzerjäger straps with rayon piping.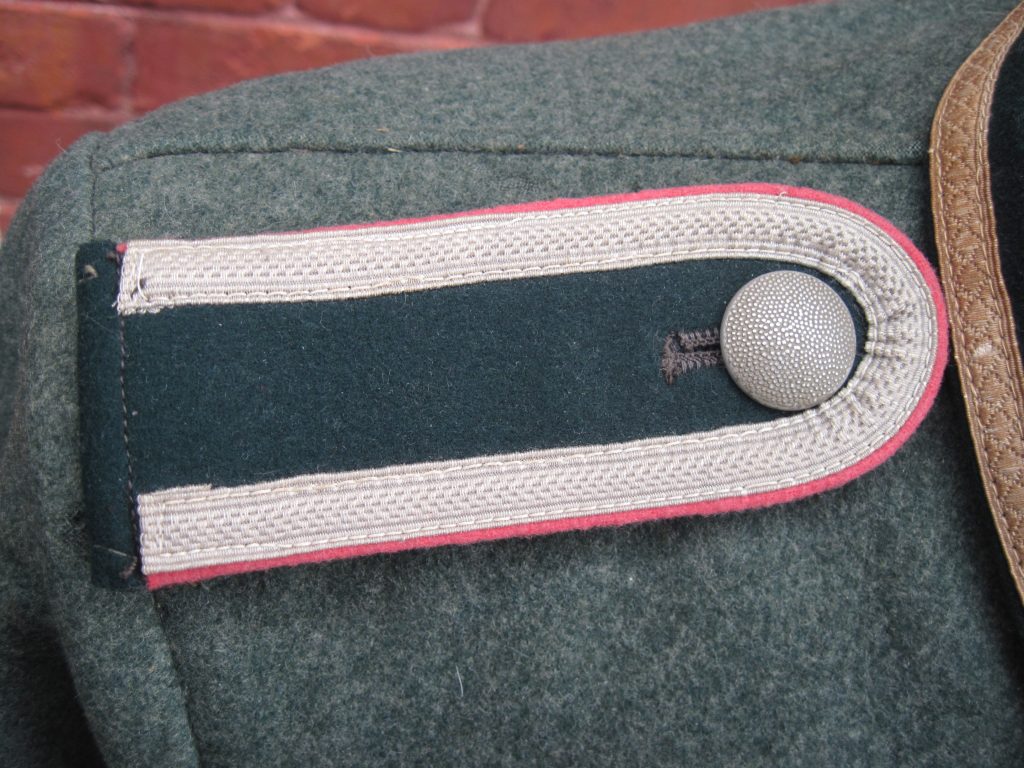 This pocket shows original loops for a ribbon bar and two badges.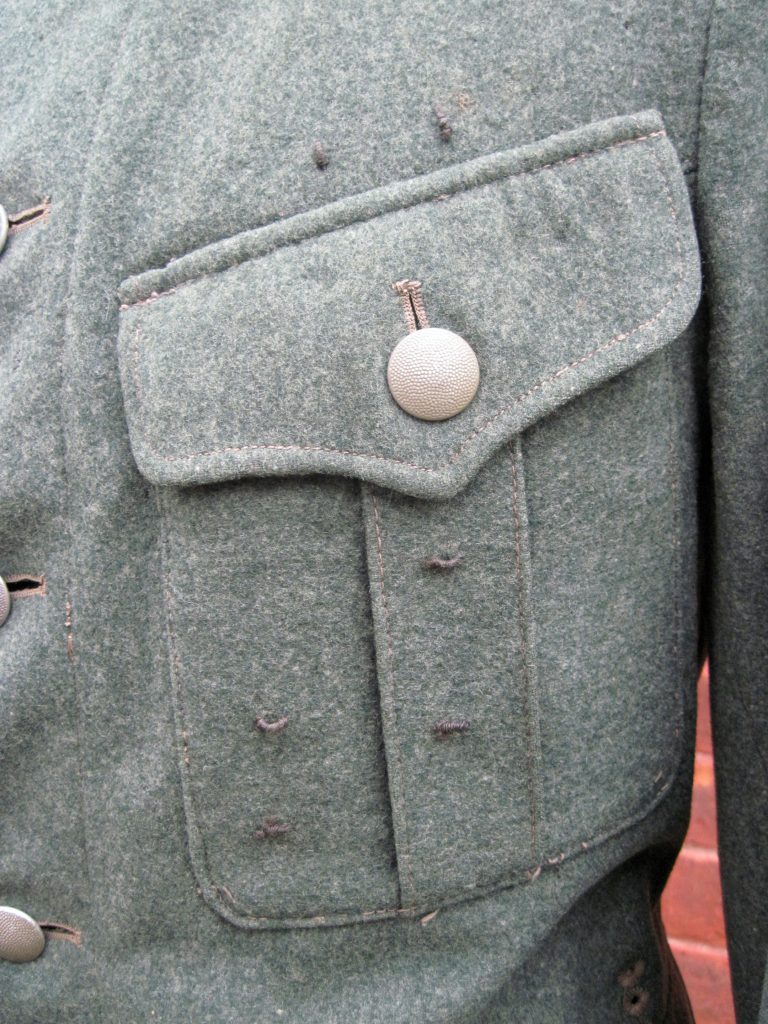 The interior of this tunic shows indications of the extensive rework process this garment underwent. The top pockets have been reapplied, sewn through the original prewar style twill lining, making it impossible to use the internal suspenders intended to be used with this tunic model. Belt hook support tabs of the sort used in uniforms after 1942 have been added, but only in the rear. The lower pockets have been moved up, and the skirt shortened, reducing the height of the small internal bandage pocket and the rear vent opening. Presumably this uniform was reworked for reissue no earlier than 1942.